Saturday, September 17, 2016
Posted by

Mark Ward
at 3:52 PM
0 comments


Thursday, September 15, 2016
The presidential race is tightening and the Democrats are officially starting to poop themselves with the release of each new poll. Haven't we see this movie before? Oh, right, that was 2012 when Mitt Romney (actually someone who was qualified to be president) gained on Barack Obama and everyone predicted the Mittster would be the next president. They used a similar metric to what they are saying today...lack of voter enthusiasm, especially among young people, would ruin the president.
How did that turn out?
Now, I'm not going to assuage people from jumping up and down and acting like Trump could actually win this thing. I think everyone should spend from now until election day operating under the assumption that Trump is actually ahead in the polls. Why? Because Hillary Clinton can't merely eke out a victory. She has to demolish him with the American people sending a clear message to The Deplorables.
We are not going back. We are moving forward. Take your nonsense and dissolve on the ash heap of history
.
If there is vacuum in the sense of urgency department, the election will be much closer than it should be. People that think that Hillary is going to walk away with this one because Trump is nuts are going to deprive her of the political capital she needs to govern starting next year. So, crap away in fear, I say, and let's get more people out there to vote.
In terms of nuts and bolts, here is where the race sits today.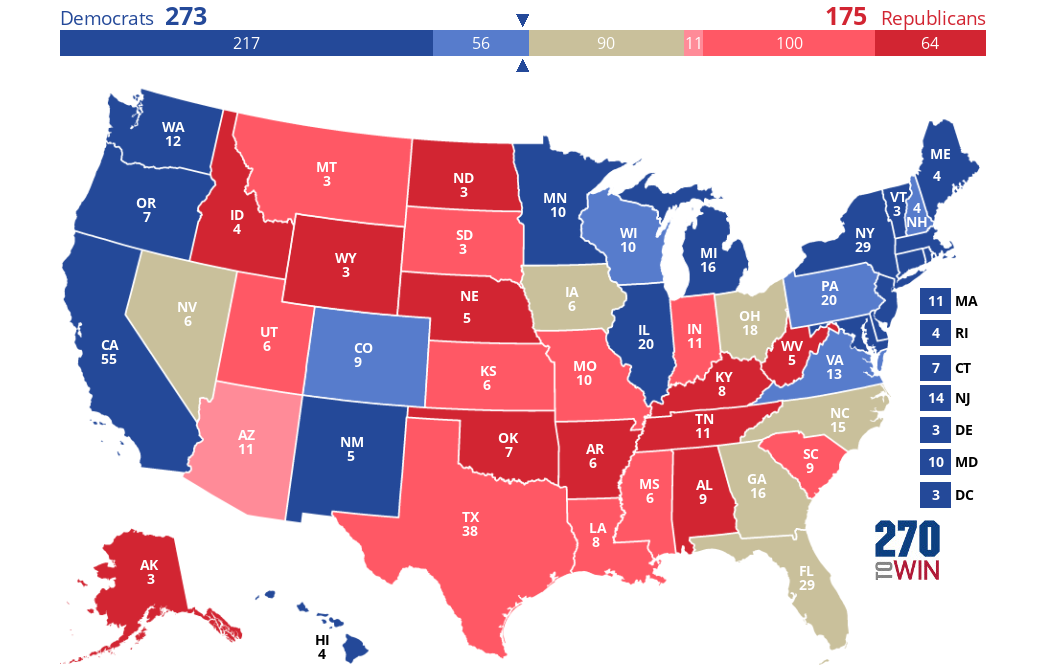 Click the map to create your own at
270toWin.com
My map is based on an analysis of the following:
The Polls Plus Model at 538.
Real Clear Politics Battle For The White House
Hillary still has the advantage and likely has more than 270 electoral votes. Yet Trump is ahead in the average of polls in Georgia, Florida, Ohio, and Iowa. Hillary is ahead in North Carolina and Nevada with those averages. All six of these states are within the margin of error. If we put them in as either red or blue, we have this map.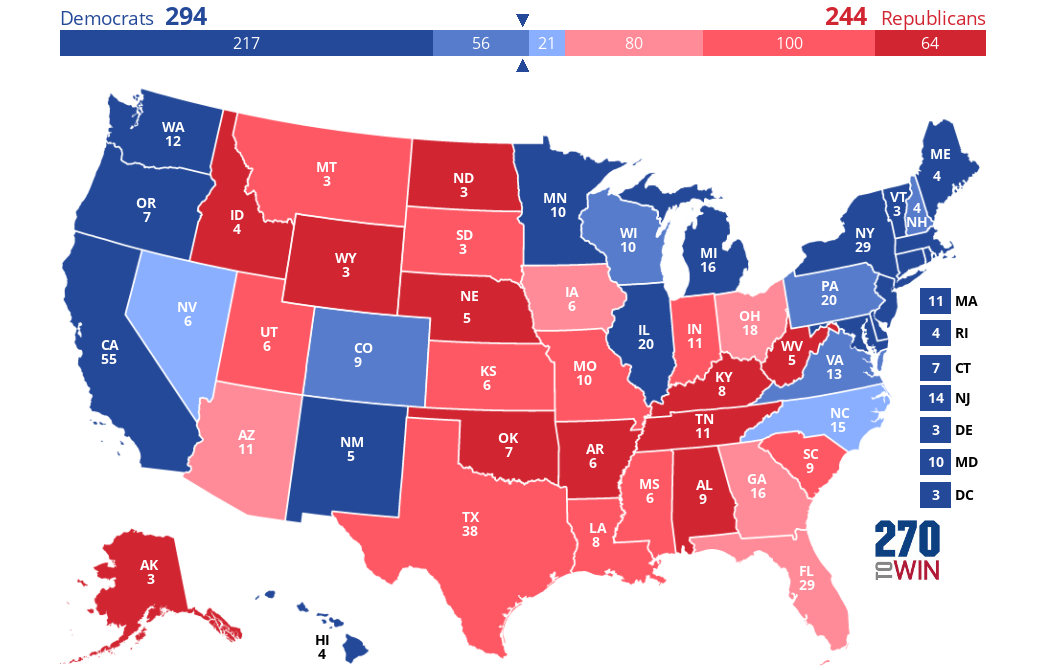 Click the map to create your own at
270toWin.com
So, a much closer race than a couple of weeks ago.
Trump has benefited from an awful week from Clinton as well as being graded on a curve. All he has to do is basically show up, not make an ass out of himself, and he gets a good grade. My hope is the media is going to start getting a lot tougher on him in these last few weeks. Now that he has proven he's an adult, he should be asked adult questions on specific policy points.
Of course, a tight race makes for better ratings for the media so who knows?
Posted by

Mark Ward
at 11:54 AM
0 comments